Meet Lori Maloney, the new coordinator for Eastern Brook Trout Joint Venture
Landscape Partnership Featured Partner working in in brook trout habitat conservation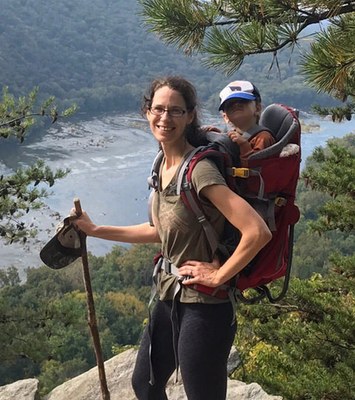 Lori Maloney is the new coordinator for Eastern Brook Trout Joint Venture, working with the Canaan Valley Institute.
Lori Maloney is the new coordinator for Eastern Brook Trout Joint Venture, working with the Canaan Valley Institute.  Lori replaces Steve Perry, who has become a trusted name for EBTJV and brook trout conservation.  His service to the EBTJV goes back to its very beginnings in 2004. Don't worry, he will still very much be a part of EBTJV.  He has joined the Steering Committee for EBTJV and also the board for the National Fish Habitat Partnership.
Steve's role on the NFHAP board comes at an important time. America's Conservation Enhancement (ACE) Act was passed by Congress and signed by the President in fall 2020.  It authorizes an appropriation of up to $7.2 M for fish habitat conservation projects across 20 Fish Habitat Partnerships. ACE places an emphasis on restoration efforts that will enhance sport fish populations that will improve recreational fishing opportunities and public use of the resource. An important change is the requirement of a 1:1 non-federal match to NFHAP dollars. The legislation additionally appropriates up to $400,000/year to the USGS, USFS, NOAA, USFWS, and EPA to provide scientific and technical assistance to the partnerships. There will be many changes and opportunities provided by the ACE Act, so please stay tuned.
As you plan your own projects and future funding requests through EBTJV, please remember to coordinate with your regional biologists.  They are here for you, and also play an important role guiding projects to be as effective as possible.  We have always relied on letters from these experts as we evaluate projects and will continue to do so.
In this time of transition, it is good to remember how we formed. In 2004, state and federal agencies, conservation groups and academics concerned about the decline of eastern Brook Trout formed the Eastern Brook Trout Joint Venture as one of the first five Fish Habitat Partnerships operating in accordance with the guiding principles of the National Fish Habitat Action Plans. By working across jurisdictional lines, the EBTJV fills a need for coordinated conservation. The EBTJV provides leadership in Brook Trout conservation that is grounded by science; and, through its network of the region's top scientists and fisheries managers, the EBTJV identifies priority needs, delivers valuable decision-support tools, and promotes proven techniques for conserving wild Brook Trout populations. This range-wide, coordinated approach is as important as ever, given the increasing threats to brook trout from climate change and other challenges.