LANDFIRE office hour chats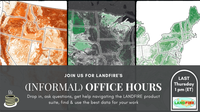 When
Dec 30, 2020
from

11:00 PM

US/Eastern to

11:00 PM

US/Eastern
Where

Register on Zoom: https://tnc.zoom.us/meeting/register/tJEtfuCuqjspHd3pQiLhcBd5292-mHV9cbA9

Contact Name
Megan Dettenmaier
Add event to calendar

vCal




iCal
Curious about LANDFIRE?
Grab that third cup of coffee and join a LANDFIRE team member (or two) for an informal, back and forth open office hours chat.
These 1-hr (informal) office hour chats will help you:
1. Learn how to best use LANDFIRE data within the context of your work (get some free help!)*
2. Troubleshoot common LANDFIRE questions (have a question, bring it)
3. Get familiar with the best (and worst) uses of LANDFIRE data (see LANDFIRE data in action)
What can you expect?
1. A LANDFIRE team member will host a short demo or LANDFIRE-themed presentation (addressing the topic outlined in the schedule below).
2. At least 40 minutes to dig into your questions (bring your LANDFIRE-related problems, ArcMap projects (they need not be complete), R code (in progress is okay) and we will troubleshoot, brainstorm and investigate them together.
When:
LAST Thursday of each month
Time: 1 - 2 pm (ET) | REGISTER - the link will not change from month to month
https://tnc.zoom.us/meeting/register/tJEtfuCuqjspHd3pQiLhcBd5292-mHV9cbA9
Schedule: January 28: Learn the ways to download / access LF data
February 25: Make a historical fire regime map
March 25: Generate a wildlife habitat map
April 29: Your topic here: email meg.dettenmaier@tnc.org
How:
*Do you have a question about LANDFIRE right now? Please submit questions or topics you would like discussed to Megan Dettenmaier (meg.dettenmaier@tnc.org) and she will make sure they are addressed. If your schedule works better for a particular month on the last Thursday, please let Megan know so she can schedule it when you attend.
This series is managed by TNC's LANDFIRE Team and will include participation from a variety of federal and non-federal partners and guests.