Welcome to the Southeast CASC April 2023 Newsletter
SE CASC News | Resources | Publications | Tribal News | Partner News | Webinars | Events | Opportunities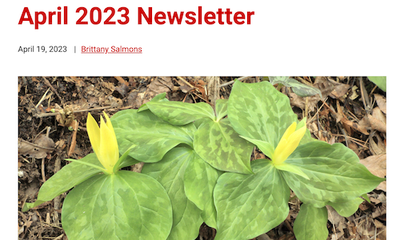 The next virtual SE CASC Science Seminar, Insights from a National Scale and Holistic Approach to Map Estuarine Vulnerability to Projected Change in Water Quality, will be presented by 2019-20 Global Change Fellow Lise Montefiore (NCSU & Natrx). May 23, 11AM ET. Learn more and register here. 
In case you missed the last Global Change Seminar, Communicating Risk in a Changing Climate, with Joseph Trujillo Falcon (NOAA/OU), Dr. Kenzie Krocak (OU), and Max Cawley (Museum of Life and Science) on April 12, you can view a summary and recording here.
Watch the recording of the SE CASC Science Seminar, Climate Support for Species Status Assessments, presented by Dr. Catherine (Kasia) Nikiel on March 16 here. Learn more.
Learn about our new SE CASC logo!
Researcher Spotlight: Learn more about Global Change Fellows Christina Perella & Austin Lamica.
Global Change Fellow Murry Burgess and 2022-23 Fellow Lauren Pharr were highlighted in an NC State News article, Inclusivity Outdoors: Making Field Research Safer.